Die Serie "Get yours now!" bedient sich einer uns vertrauten Ästhetik. Bilder des Protests und der politischen Gewalt, die wir aus Medienberichterstattung kennen, enttarnen sich als Darstellung eines destruktiven Massenkonsums. Die Schlacht um Sonderangebote.
Vorbilder waren Youtube Videos zweier Verkaufsevents, die durch einen überdurchschnittlichen Ansturm der Konsumenten eskalierten. Die Vielfalt der einzelnen Blickwinkel, bedingt durch die schnelle Verfügbarkeit von Handykameras, lassen ein Bild aus verschiedensten Blickwinkeln entstehen.
Der Quantität an Videos steht das klassische Ölgemälde als Unikat entgegen. Die Frage nach der Wertigkeit der einzelnen Medien steht im Raum. Das verpixelte Youtube Still wird in seiner Wertigkeit erhöht und zum Kunstgegenstand transformiert.
The series "Get yours now!" uses familiar aesthetics. Images of protests against political violence, like we know them from media coverage, reveal themselves to be representations of destructive mass consumerism. The battle for special offers.
The pictures are based on two Youtube videos of sales events which escalated through the exceptional number of customers in attendance. The diversity of different viewpoints, created through the ready availability of camera phones, create a multi-layered image.
The quantity of video material is juxtaposed by the oil painting as a unique object, raising the question of the different media's worth. The pixalated Youtube still is elevated in its worth and transformed into art.
Mediamarkt opening, oil on canvas, 2m x1,5m, 2012/13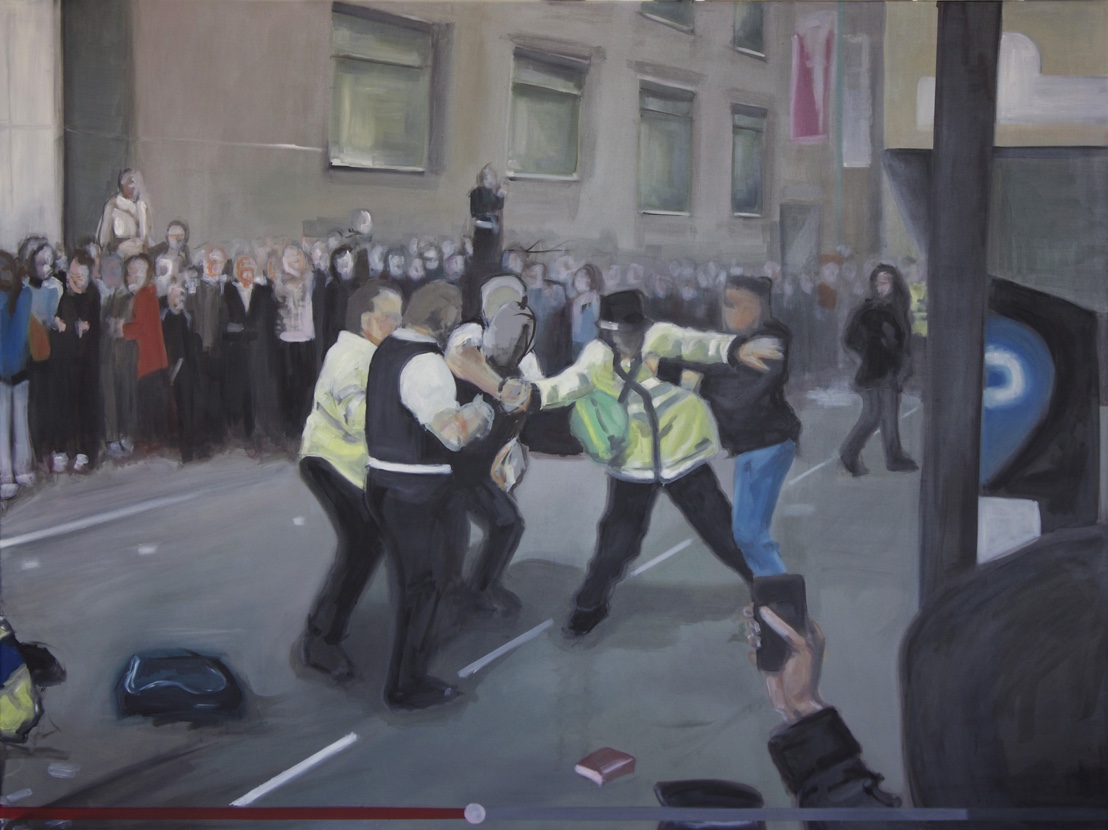 American Apparel Supersale, oil on canvas,2m x1,5m, 2012/13